Considering Colleges, Part 2
Read Considering Colleges, Part 1
So you've narrowed your college choices down, and you're ready to check out a few in person. How can you make the most of your campus visit?
Time It
If you're a high school junior or senior, you're probably inundated with postcards for "prospective student days/weekends." Honestly, I think you get a more realistic picture of a place by visiting at a different, non-peak time. Schools, like people, will "clean up well" when company's expected. Nothing's wrong with that; but if I'm going to live somewhere for 4 years, I'm mainly interested in the normal, not-necessarily-company-ready state of the school.
Also, if you call far enough in advance, you can request many of the "perks" normally offered at these prospective weekends: campus tour; appointments with admissions officers, financial aid advisors, and professors; overnight stay in dorms; opportunity to observe a class; etc. If you're a potential music major, sometimes you can observe part of an ensemble rehearsal or studio class as well.
Prepare Your Questions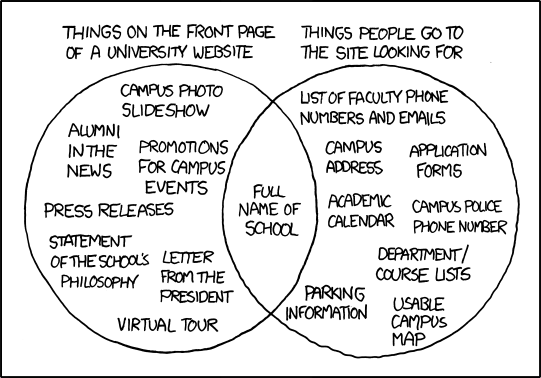 In my previous post on this topic, I suggested a few questions to ask current students and potential instructors. You'll want to prepare similar lists for any appointments you'll set up. Here's a good list of starter questions that you can tailor to your needs.
Do yourself (and your interviewers) a favor and browse through the school and department websites in advance. Even though school websites are notoriously difficult to navigate (see above), the information you're seeking is usually somewhere below the surface.
Listen, Observe, Listen, Observe
When visiting a new place, I attempt to live like a local by taking public transportation (or walking), hunting down resident-recommended spots, and just watching daily life unfold. Maybe that sounds strange, but I've found it's the best way to really "learn" a place.
You can do the same at a college campus. Stroll through campus on your own. Spend an hour or two in the residents' favorite restaurant/coffeehouse and observe people interacting around you. Do you hear predominantly loud conversation or are people quietly studying? Do students generally appear relaxed or stressed? Social or introverted? You'll get a real sense of atmosphere and character — and you'll probably gather pretty quickly whether or not you'd like to live there.
Next time: Searching for a church
(Comic: xkcd)