(Read Considering Colleges, Part 1 and Part 2)
My final thoughts on considering colleges concern finding a church. It's no secret that many young adults, despite growing up in the church, stop attending during college. The reasons behind this fall-off are numerous, and I don't intend to wade through them in this post. Suffice it to say that yes, it's true: many stop attending because they never wanted to go in the first place. But many others drop out because they're overwhelmed with the task of finding one.
I truly believe that for a Christian, access to a solid church needs to be a criterion for evaluating colleges. Don't wait until after you've settled into the dorm to start looking around; but apply the same amount of care you put into selecting a school towards selecting a church. For many people (myself included), college is a time of spiritual struggle and transformation. Many "church kids" come to terms with what they — not their parents — truly believe; and they need to be part of a community committed to guiding them biblically.
I need to acknowledge the profound and active role my parents played in my college church search. The care they took to call up pastors, ask for recommendations, and plan church visits — before I even chose which school to attend — reinforced to me the seriousness of the task. Even though I had attended church my whole life, I had absolutely no experience searching for one; and I'm grateful that they guided me through the process. Yes, ultimately I "chose" what church to attend during college; but knowing why they suggested certain ones helped me make an informed decision.
The primary concern in finding a church is spiritual solidity. Consult with your current pastor for suggestions or possible connections. Here are a couple of good overview articles on what to look for in a church:
Some practical advice:
If you won't have a car, look for churches that are within walking distance or that offer reliable weekly transportation. This will give you fewer excuses to skip church once you get "busy." No matter how well-intentioned we are, we can all use some preventative measures — especially if getting yourself to church is a new responsibility.
College students are notorious for being "pew-warmers." Look for a place where you can not just attend, but serve. Some churches require membership to serve in certain areas, so inquire about those processes early. Once you decide where to attend, make the commitment to find ways to plug in and get started early.
August 31, 2010 2 Comments
Read Considering Colleges, Part 1
So you've narrowed your college choices down, and you're ready to check out a few in person. How can you make the most of your campus visit?
Time It
If you're a high school junior or senior, you're probably inundated with postcards for "prospective student days/weekends." Honestly, I think you get a more realistic picture of a place by visiting at a different, non-peak time. Schools, like people, will "clean up well" when company's expected. Nothing's wrong with that; but if I'm going to live somewhere for 4 years, I'm mainly interested in the normal, not-necessarily-company-ready state of the school.
Also, if you call far enough in advance, you can request many of the "perks" normally offered at these prospective weekends: campus tour; appointments with admissions officers, financial aid advisors, and professors; overnight stay in dorms; opportunity to observe a class; etc. If you're a potential music major, sometimes you can observe part of an ensemble rehearsal or studio class as well.
Prepare Your Questions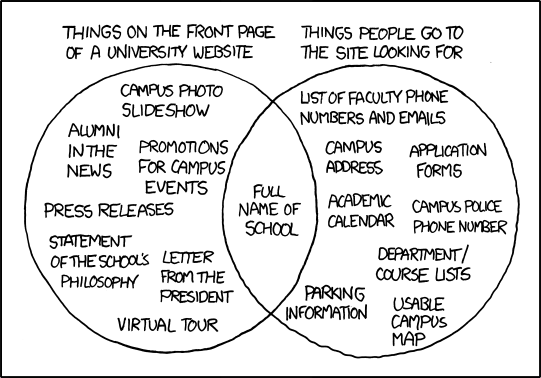 In my previous post on this topic, I suggested a few questions to ask current students and potential instructors. You'll want to prepare similar lists for any appointments you'll set up. Here's a good list of starter questions that you can tailor to your needs.
Do yourself (and your interviewers) a favor and browse through the school and department websites in advance. Even though school websites are notoriously difficult to navigate (see above), the information you're seeking is usually somewhere below the surface.
Listen, Observe, Listen, Observe
When visiting a new place, I attempt to live like a local by taking public transportation (or walking), hunting down resident-recommended spots, and just watching daily life unfold. Maybe that sounds strange, but I've found it's the best way to really "learn" a place.
You can do the same at a college campus. Stroll through campus on your own. Spend an hour or two in the residents' favorite restaurant/coffeehouse and observe people interacting around you. Do you hear predominantly loud conversation or are people quietly studying? Do students generally appear relaxed or stressed? Social or introverted? You'll get a real sense of atmosphere and character — and you'll probably gather pretty quickly whether or not you'd like to live there.
Next time: Searching for a church
(Comic: xkcd)
August 26, 2010 No Comments
My brother Tim is in the process of applying for colleges. He's planning to major in music (hey, I didn't scare him away!), so these days we're chatting frequently about teachers, music theory placement exams…and, of course, the all-important school visit and audition.
Most prospective music students get plenty of advice about auditioning. They spend months choosing and practicing repertoire, recording, and performing so they'll be in top shape for the real thing. But with all the focus on the audition, the rest of the school visit is often overlooked. I think this area deserves more attention; because if you plan ahead and ask good questions, you'll learn a lot about whether or not a particular school is a good fit for you.
Pre-Visit Investigative Work
Quiz Current Students: One of the most helpful things I did before choosing my undergrad school was talking to students in my intended major. Ask the admissions counselor or potential private teacher for the name/contact info for a current student. Seek honest feedback about this person's school experiences, using questions such as:
What is the best thing about working with [private teacher]? The most difficult thing?
What is the size of the current [instrument] studio? Number of undergrads/grads?
What other schools did you consider, and why did you choose this one?
How would you describe the atmosphere of the music department? Of the [instrument] studio?
Do you find the academic coursework challenging?
What type of performance opportunities have you gotten?
Do you have any major frustrations about the school?
What are your career goals?
Evaluate teachers: For prospective music performance majors, your potential private teacher should be the most heavily-weighted factor in your final decision. Most music majors' overall impression of their school experience depends on their relationship with their teacher. If I'm forced to choose between a great teacher + mediocre school and mediocre teacher + great school, I'll take the first option every time.
Your current teacher is probably your most helpful resource in selecting possible future teachers, as they may have personal connections or experience with different faculty. Your teacher also knows how you are as a student, so s/he should have insight regarding what type of teacher will benefit you most.
If you don't have the luxury of taking a lesson with a potential teacher prior to your audition, try setting up a phone or email conversation with him/her. Ask questions like…
What are your current students doing (i.e. repertoire, competitions, auditions)?
What is the size of your current studio (both at the school and private)?
What do you like best/least about the school?
How would you describe the quality of the ensembles and overall music department?
What is your teaching philosophy?
Next time: Tips for the real-live school visit
August 24, 2010 1 Comment